2023.04.12
Press Release
Okinawa Electric Power Company and Okiden CplusC Sign Memorandum of Understanding with nami™
Collaboration of Global Standardized Smart Plug Projects from Okinawa
Okinawa Electric Power Company Inc. (President and Representative Director: Hiroyuki Motonaga; hereinafter referred to as "OEPC") and Okiden CplusC Corporation (President and Representative Director: Hiraku Nakahodo; "CplusC") have concluded a memorandum of understanding with nami™("nami"), a global standard IoT platform and AI sensing software ecosystem startup based in Singapore (CEO: Jean-Eudes Leroy; "nami"), to proceed collaboration and cooperation in various business fields utilizing hardware augmented software developed and provided by nami.
nami was founded in 2021 by the entrepreneurs who created WiZ, a smart lighting brand and ecosystem that was acquired by Signify, the lighting leader (formerly known as PHILIPS in this industry). WiZ is the world's first smart lighting platform embedded with Wi-Fi sensing technology.
nami has developed a series of disruptive IoT devices with multi-sensing software layers including its pioneering AI sensing plugs, and WiDAR™ wellness pods. In just a short period of time, nami has established long term partnerships with global companies (Internet Service Providers and Security companies).
nami is strongly involved in IoT standards and compliance. Jérôme Leroy, its Chief Innovation Officer, is also the chair of the wireless signal based ambient sensing Workgroup at Matter, which is part of CSA ( 600+ technology companies are participating to CSA, including Big Tech players such as Apple, Google, and Amazon).
nami has partnered with OriginWireless ("Origin"), a world-leading venture company developing Wi-Fi sensing technology, which is scheduled to become a global standard in sensing technology by 2024 at IEEE, the world's largest professional organization and technology standardization body. In May 2021, CplusC, a joint venture established by OEPC, Inspire Corporation ("INSPiRE") and Japan Integration Corporation, a INSPiRE's invested and since conducted a large-scale social demonstration project "Mimamori for the Elderly" in 12 local governments in Okinawa (covering more than 60% of elderly residents in the territory) by leveraging Origin's WiFi sensing technology, which relationships has led to this MOU.
 With the conclusion of this MOU, OEPC and CplusC will promote the spread of "Mimamori for the Elderly ", which provide a motion and sleep detection without the use of microphones or cameras, to elderly households in Okinawa and throughout Japan nationwide by leveraging the uniqueness of nami's hardware augmented software, including its intelligent sensing plug and WiDAR™ wellness pod. OEPC and its group companies will also consider a wide range of collaboration and partnerships in various business fields including energy management, home security, or smart food logistics / warehouses, in order to further realize OEPC's corporate slogan, "With the local community, for the local community," and to deliver safety and security to the local residents.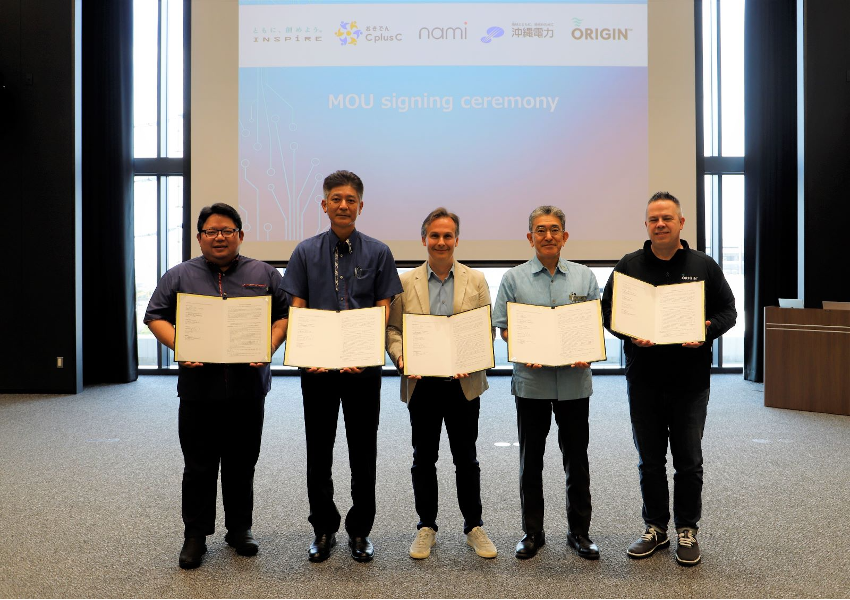 Commemorative photo of the signing of the MOU on April 10, 2023 (Location: OEPC Head Office)
(From left to right) Ryosuke Takatsuki, President & Representative Director, INSPiRE: Hiraku Nakahodo, President & Representative Director, CplusC; Jean-Eudes Leroy, CEO, nami; Hiroyuki Motonaga, President & Representative Director, OEPC; Spencer Maid, CEO, Origin.
About OEPC (Head office: Urasoe City, Okinawa)
A comprehensive energy company that plays an important lifeline role in all of Okinawa, celebrating its 50th anniversary in 2022. Under the corporate slogan of "With the local community, for the local community," the company is engaged in infrastructure business activities that support people's daily lives and economic activities through energy.
About CplusC (Head office: Ginowan, Okinawa)
A joint venture between OEPC, INSPiRE and Japan Integration, using Origin's WiFi sensing technology, which has succeeded in a large-scale social demonstration of "Mimamori for the Elderly" covering more than 60% of elderly residents in Okinawa, under alliance with 12 local governments in Okinawa. The company is now moving forward for commercialization with the aim of delivering "Energy of Heart" throughout Japan.
About nami (Head office: Singapore)
nami builds software based sensing infrastructure for responsive homes and buildings. nami technology solves problems for players in security, safety, building automation, energy optimization and wellness. nami ambitions to replace existing analog indoor sensors by enabling a mesh network of AI powered sensing nodes covering larger areas, with higher fidelity.
About Origin (Head office: United States)
Origin AI is a pioneer in transforming WiFi signals into innovative WiFi Sensing technology and category leader providing solutions for Fortune 500 ISP, security, and IoT companies with applications and services in healthcare, home security, property tech, and automotive. Leveraging its patented and award-winning AI, Origin AI detects motion, presence, falls, and breathing patterns, offering unparalleled accuracy and security. WiFi can do more.
About INSPiRE (Head office: Tokyo, Japan)
Believing in "Make the World Amazing" through doing what others don't, INSPiRE is a company whose main business is a new business development itself, where it fully 'runs-together' with entrepreneurs who are working to realize innovation, and provides all its resources / expertise necessary to lead them to success in a timely and appropriate manner. Invested in Origin since 2018 and in CplusC since 2021.
◆Contact information
Inspire Corporation: Kenny Kurokawa (TEL 03-6418-1091)