ASEAN × Muslim
A Shariah-compliant Fund to incorporate Asian growth into Japan.
The Fund fosters small to medium Japanese enterprises that have potential to succeed in the international market, with the aim to further drive these businesses and contribute into Japanese industry which has reached maturity.
Fund Prospectus
With the collaboration of PNB Group; the largest Malaysian Investment institution For deployment of the ASEAN and the Islamic market
Along with the economic growth in the ASEAN market since the founding of the ASEAN Economic Community (AEC) in 2015, the Islamic consumer market of 18 million people has achieved a remarkable growth of more than 200 billion yen. The fund aspires to support small to medium Japanese companies to access the market starting from Malaysia which has potential to bring about mutual growth. The Fund membership includes local banks such as Oita Bank, Ogaki Kyoritsu Bank, Shiga Bank, The Eighteenth Bank, Shonai Bank, Chikuho Bank, Tohoku Bank, Hiroshima Bank, Michinoku Bank and supports each bank to assist their customers with overseas business development.
Capability 1

Scenario-based Investment and Practical Support

INSPiRE's know-how of scenario-based business development through long years of experience in fund management, with investees we examine how Asia grows and provide investment and practical support.

Capability 2

Business Development in Asia Alliances and Collaborations

PNB as the largest Malaysian investment institution is a place where numerous listed enterprises and potent companies participate. The fund is able to support the investees to build alliances and collaborations in Malaysia.

Capability 3

Advance into the Islamic Market

Japan's first Shariah-compliant Fund retains the Shariah Advisory Board to align with PNB. It seeks ways for investees to optimize and advance into the Islamic Market such as meeting with Halal certification requirements.

About PNB – the largest Malaysian investment institution
The largest Malaysian investment institution that has been contributing in economic growth through equity investment and in industry creation to the country since the Mahathir administration. PNB receives capital participations from Sime Darby, a major Malaysia-based multinational conglomerate, and Maybank, the largest Malaysian universal bank in ASEAN and so on. The group runs joint ventures and works closely with Japanese companies such as Toyota and NEC.
Maybank

The largest Malaysian universal bank in ASEAN
Sime Darby

The biggest plantation company in the world, including property, motors, industrial, energy and healthcare sectors
UMW

Motors, facilities, manufacturing, engineering, oil/gas business
NCB Holdings

The largest local courier
Chemical Co Malaysia

The largest local chemical/pharmaceutical firm
MNRB

investment, reinsurance, Takaful business
About the Malaysian Market
ASEAN and Islamic markets Malaysia, full of potential
With a per capita GDP exceeding $10,000, Malaysia is expected to be a promising country that has the following potentials to: 1) become an innovation leader in ASEAN, 2) have an appropriately sized market, and 3) leverage through diversity in ethnic groups and economic spheres. Along with the economic growth, an increase of the middle class has led them to become the dominant proportion of the population. Also, the average age will be 28.9 in 2020, it is expected the consumption power continues to grow.


Why Malaysia Now?
Malaysia's outstanding economic growth has brought on a rapid increase of the upper-middle class, which will occupy more than 87% of the population by 2020. Once the country was a hub of manufacturing or branch offices, now it's becoming an attractive consumer market with high demand for quality.
GDP per capita of ASEAN countries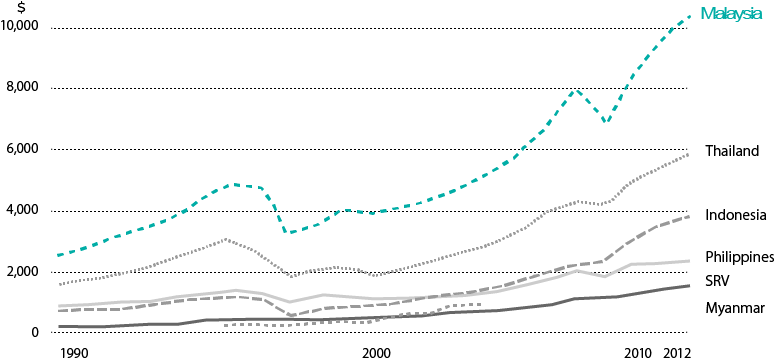 Trends in types of businesses advanced into Malaysia over the past 30 years
First Wave

Early to Late 1980s

Given Malaysia's low-cost labor, major manufacturers moved their production hub from Japan to Malaysia.
Second Wave

Late 1980s to Mid-1990s

Small to medium-sized subcontracted supply manufacturers advanced into the market in the wake of the first wave.
Third Wave

Mid-1990s to Mid-2000s

Following to serve the first and second waves, the companies in finance, transportation and warehousing, telecommunication, construction, logistics, engineering, public relations, and printing industries grew in Malaysia.
Fourth Wave

Mid-2000s to Present

With accelerated upturn in consumption and purchasing power of Malaysia, industries such as restaurant, wholesale and retailing, education, beauty and medical, entertainment, software development, designing and other services have begun to emerge.
About Partnership
Business Development Support by the Fund partnership
INSPiRE's mission is to develop businesses, and since its founding we have provided parallel supports in investing to venture companies and starting new projects for large enterprises. We have inspired values into businesses that can lead innovation through the development of a business growth scenario that combines their strengths with our know-how, or even through arranging alliance between venture businesses and larger enterprises. In this Fund we emphasize building alliances between companies, such as business partnership and capital participation. Through alliances built not only within PNB but also in extended areas originating from Malaysia, we will continue supporting business start-ups in Asia.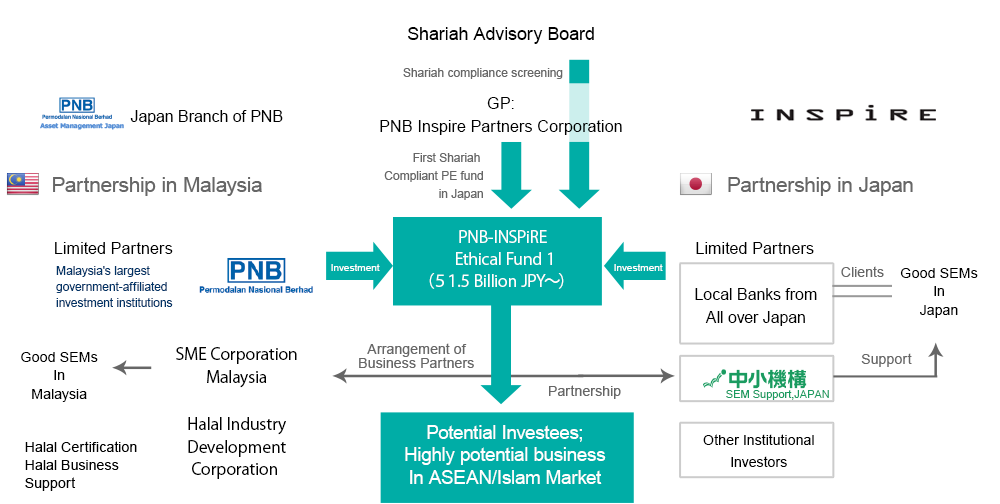 We will create new international businesses nationwide by supporting small to medium companies with potential, rooted in the community that has connections with the eleven member banks.
Investments

ABEJA.INC
ABEJA is a breakthrough AI technology company promoting in very early phase "deep learning", the technology used for 'feature quantity extraction' that automatically detects features properly representing selected data from big data without human intervention. Currently, the company is working on providing innovative services promoting efficiency and automation of businesses in various industries and scenes.

Origin Wireless Inc.
Orign Wireless is, with a company catch of "Smart Radios for Smart Life," a U.S. based start-up that develops and provides next-gen sensorless IoT services used to "sense" spaces and objects through radio waves. With Dr. K. J. Ray Liu, the founder and president of the company, a professor in the Department of Computer Engineering at the University of Maryland, and also a board member of the IEEE (Institute of Electrical and Electronics Engineers), the U.S. headquarters focuses on research and development while Origin Wireless Japan provides business development and corporate sales for both countries.

Shichiyo Co.,Ltd
A commercial oven manufacturer established in 1973 in Fukuoka. Nanban and Backen are highly desirable commercial ovens among confectioners. Shichiyo in recent years has provided frozen dough for confection companies that face insufficient human resources. In 2017 Shichiyo established a joint venture company with PT Kapal Api Global who has more than 60% market share in coffee bean distribution in Indonesia, aiming to produce frozen dough for the Indonesian and ASEAN markets.

Microwave Chemical Co.,Ltd.
A venture from Osaka University introduced new energy transfer methods and brought on a revolution in the chemical industry that has been stagnant for almost 100 years. This technology can be applied to an increasing variety of chemical manufacturing processes due to understanding their specific needs. After a period of investment from PIEF, the company plans to expand into ASEAN where raw materials for chemical products are abundant.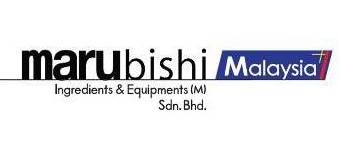 MARUBISHI Ingredients & Equipments Sdn. Bhd.
Based in Mashiki-machi, Kumamoto, this distributer is the top confectionery and bakery in the Kyushu district. PIEF investment was made to Malaysian subsidiary and its business is expanding into Asia. This made MARUBASHI into a catalyst for the boom in the bakery and confectionary market quality.

Green Earth Institute Co., Ltd.
GEI develops a bioprocess platform producing various chemical products such as amino acids and carbon neutral bioethanol using non-food biomass materials such as leaves and stems of plants. Project of producing Isobutanol from palm pallet waste(Indonesia) and producing Ethanol from Bagasse(Thailand) is in progress.

Pocket Marche Inc.
Develops "Pocket Marche" which is a CtoC service to purchase seasonal agricultural and fishery products from producers directly, and to communicate directly with customers and producers using smart phone application. It enables customers to get closer with production areas by communicating with producers and also have access to many fresh and rare products.

Grooves inc.
grooves is a HR tech start-up company who builds a technology-driven human resource circulation infrastructure under its vision of "Building a Work-shift Infrastructure to Create the Future of Working People." The company operates "Crowd Agent," a recruitment platform that connects recruiting companies and fee-based agencies throughout Japan, "Forkwell," an IT engineer-first service providing support for career change based on the portfolio service for IT engineers, consulting service for starting HR agents, global HR solution "GRIP ON", and regional HR empowerment platform "Regioshift".

Giftee inc.
Fundamental business of Giftee is to provide e-gift ticket generating and selling system for retailers and some other service companies. And also Giftee sells those e-gift tickets for consumers by Giftee's owned EC service call "giftee.co" and for enterprise customers as a wholesale distributor. Giftee started operations in Malaysia from October 2018 and has succeeded in introducing their services to some major restaurant chain.

The Lorry Online Sdn. Bhd.
The Lorry Online is the online on-demand logistic marketplace startup from Malaysia. The service connects indivisual lorry drivers holding multiple type of vehicles with indivisuals or corporate to provide matching of transparent and high quality logistics service in ASEAN region.

Hattendo International
Hattendo International was established as a spin-off of HATTENDO Co,Ltd. to to accelerate their overseas businesses that include Hattendo Singapore's exiting businesses. HATTENDO's main product is "Cream Bun" that is refrigerated to deliver a softly melting experience. Hattendo has succeed to grow their business based in Japan since the sales debut of the Cream Bun in 2007. In August 2015, HATTENDO established Hattendo Singapore Pte. Ltd. in Singapore under its direct management. Additionally, Hattendo succeeded in expanding its licensing businesses in Hong Kong and Perth, Australia.

Asean Fundokin Corporation
Asean Fundokin Corporation is established as the strategic joing venture aiming for overseas market expansion of Fundokin Soy Sauce, the largest soy sauce and miso maufacturer in Kyushu region, Japan. PIEF has jointly developed AFC with Fundokin to accelerate ASEAN market penetration including joint venture partnership with local sauce manufacturer to develop localized product using Japanese traditional soy sauce as key ingredients.

FashionValet Sdn. Bhd.
FashionValet is Southeast Asia's premier online destination for Asian brands selling fashion apparel, shoes, and accessories, aiming to bring the latest fashion trends to your doorstep. Founded in 2010 by Malaysia's popular blogger Vivy Yusof and her husband Fadzarudin Anuar, FashionValet offers a wide selection of ready-to-wear garments for women, men and kids, from modest and contemporary attire to lingerie, accessories, shoes and swimwear, and boasts fast delivery, and best-in-class user experience for consumers around the world.